I've had a busy weekend! We took the boys to sushi (Jasmine in Double Diamond) for the very first time, and I am proud to say they each ate about $17-18 worth of sushi each! I don't think I'll get them a-la-carte next time... I wasn't sure how they would do. They like rice, and they LOVE fish, but they've never had raw fish before. Of course, I didn't tell them it was raw, and they picked their rolls apart, eating every last bit. Sean tried to hard to use his chopsticks, and I worked with him on holding them, but he eventually either stabbed his sushi with one, or just used his fingers. He did develop a taste for my green tea though. They were so good, and the sushi chefs were really nice (we sat at the bar) since it was their first time. They seemed unsure at first though and offered their Chinese menu, but I wanted the boys to have a chance at the raw stuff. Now I'm not afraid to take them back, and have them try some miso soup (somehow forgot to order that part).
As for the yesterday, I spent hours in the boy's bathroom painting over that nasty dark yellow that was in there- took 2 coats of primer, and 2 coats of semi-gloss to cover it. Then I did a little sponge painting, and I have some simple lighthouse wallpaper strips I want to put up. I'll share a picture when I'm all finished. I also need to paint the baseboards and doorframes (whoo-hoo.) because they look dirty next to the clean white paint. I also added a second medicine cabinet and put in a new towl rack/matching tp roll holder. I'm very pleased with how it is turning out- although I had no idea how much extra work it was going to be to get all the yellow off all the corners, and the sink and the light fixtures (the previous owners didn't tape when they painted it). But it was worth it!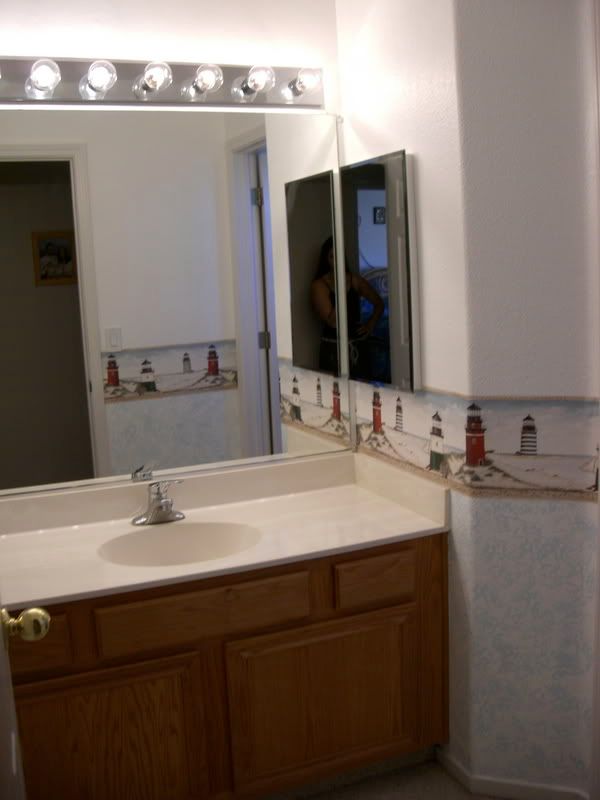 Oh, and I finally caved in and let Kevin buy a motorcycle yesterday. I was tired of him nagging me everyday, so I told him to just go buy one and be done with it. It's an '06 Yamaha 650, black and chrome (with matching helmet) and only has 5000 miles on it. It IS a good lookin' bike... But it will be a while before I get on the back of that thing- not until Kev feels completely comfortable with just himself on it.