This was my fourth year doing the
Donner Lake Triathlon
. (Although last year I could only do the bike leg of a relay team because of my shoulder surgery in January. Still counts though!) Here are the stats: 1/4 mile swim (400 meters), 6 mile bike, 2 mile run. It's a pretty quick race, and a select few even finish in under 40 minutes. I however tried my best to stay under an hour. The bike alone takes me almost that long. The lake was really nice this year- MUCH warmer than in previous years, and it was glassy smooth. There must have been about 50 other girls in my wave (32 and under), and I got kicked quite a bit at the start, before it thinned out a bit. One girl even knocked my right arm which gave my bad shoulder a little twinge. I quickly decided to let her pass. I could tell that I haven't been doing much swimming lately and found myself breathing every other stroke instead of every three, rotating from side to side. I was happy to get out of the water, even though that is usually my best leg. On to the bike! It is a grueling 3 mile bike up with a 1200 foot climb on Old Hwy 40 up to the bridge. I think that took me about 30 minutes to climb, and 5 minutes to peddaling furiously on the way back down. The only times I used my brakes were for the right curves in the road. For some reason, I just don't feel as comfortable going 35-40 mph downhill turning to the right as I do to the left. Half way up, I remembered I forgot to tie my bib number on. Oops! I meant to put it on after the bike, but then I forgot it again. I think those are mostly for the cameras anyway- I was wearing a chip on my ankle, plus I had my number (1186) inked on both shoulders and legs. I had a pretty strong bike, despite the short trainings I've been doing. I kept telling myself, "Almost to the run!" That is where I have been doing the most training for this year- running 3 to 5 times a week between 3 and 6 miles per workout. (When I don't get a bad stitch in my side, anyway.) So I took off for my run, and I didn't hold back after the first quarter mile. I was passing people right and left, especially on the uphill. It wasn't much of an uphill, but man was that a great feeling! I know I dropped time on my run, if nothing else. I don't know what my race results are yet (they didn't have them posted when I left, although someone said that my name wasn't on the list- hopefully that wasn't because I forgot to put my bib on!). Another thing I forgot to bring was a towel. I like to dry off my feet before I put shoes and socks on, but I think because I didn't pause to do that this year my transistion times were faster too. My official time was 1:07.11, which is only 39 seconds faster than I did it in 2005. Oh well. Good thing I ran fast! They some how lost my times, but finally posted my overall time, although no splits. Better than nothing, I guess. Here are a few pictures: First, Sara and I before the race started, about 6:45 a.m.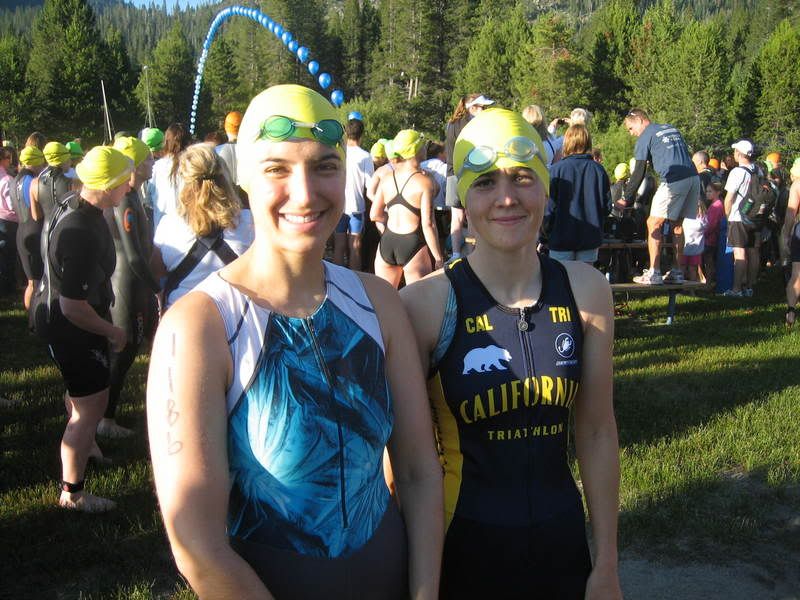 Here I am, getting out of the water on my way to the bike.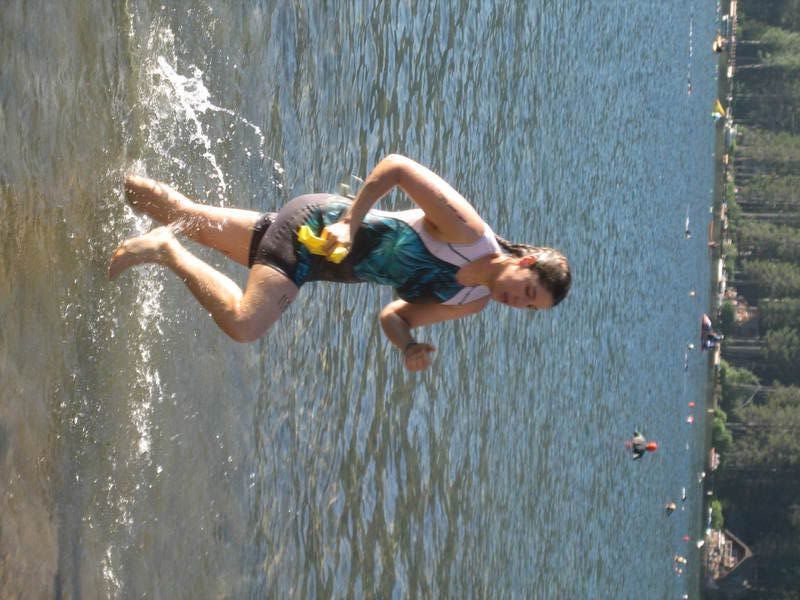 Here are Scott and Sara, post race: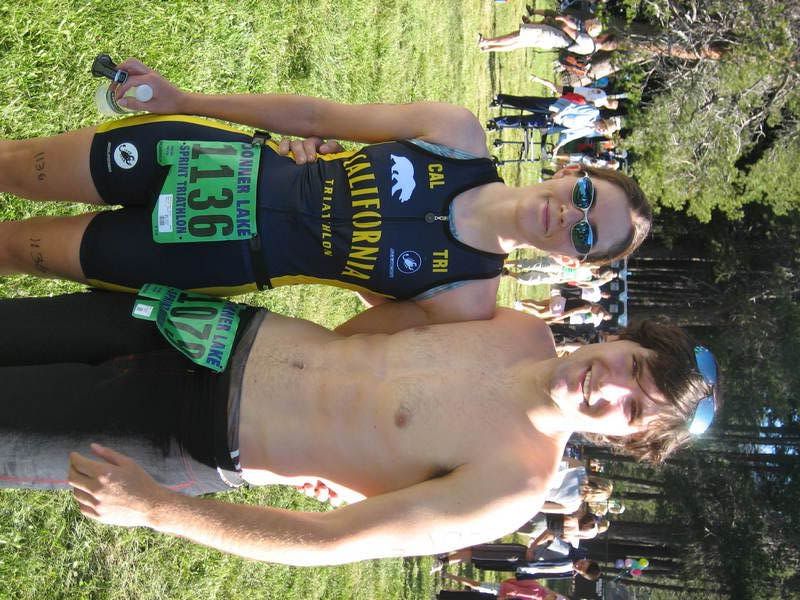 I'd like to take the opportunity to congratulate my entire family as well- both of my parents participated in 2 separate relays, along with my husband and his dad, my older brother, and my Aunt. My little brother and his girlfriend did the full triathlon with me (and probably both placed in their age groups)! Yeah us!