Well, I've done it! I've completed all the races I said I wanted to this season, except for the Marathon de Mayo (too much homework that particular weekend, plus I hadn't trained enough to do a 10k yet). But I did add in an extra 10k in Grass Valley wth Chris to make up for it. Anyway, I did really well this year at Pyramid- I felt like I had trained almost enough. I swam a few times (a mile last Monday just to make sure I still could), ran 7 miles last Saturday and 5 on Wednesday, biked for an hour on Thursday, and walked for 25 minutes with Pirate on Friday just to keep my muscles loosened up for the Saturday race. Here are the distances: 800 meter swim (1/2 mile) in the lake (which was pretty warm!), 13 mile bike over gentle rolling hills, and a 3 mile run with a short steep hill at the beginning and flat for the rest of it. My time? 1 hour 35 minutes and 24 seconds, which put me in 3rd place for my age group! I checked my times from the last time I competed in this race in 2004 (my 2nd ever triathlon), and I did that one in 1:41:52. So I took 6 whole minutes off! I did add a minute to my swim (I'm stickin' to my shoulder surgery as my excuse), but I took off 11 minutes from the bike? That doesn't make sense. I think they included my transition times in that figure because we didn't have chips that year.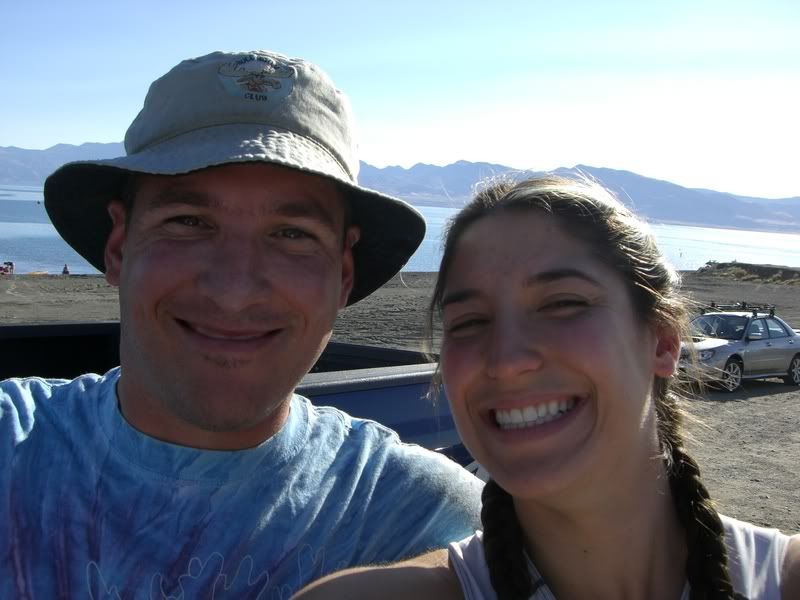 Anyway, here is a picture of Dave and me (I made him do the tri with me since Kevin was up at band camp being big important low brass instructor man). But guess what- I have some pretty good bragging rights as well- in 2004, Dave and I also did this race together, although I did not know him them (not until the next week when I started working at NW library with him), but he killed me in that race- I think he beat me by about 13 minutes. But this year, I beat HIM by 3 whole minutes! Whoo-hoo! (Sorry Dave- I know I made you do this race with me, but I am kinda stoked! Thanks for being such a good sport about it all...) Here is the link to the
official 2007 results page
if you want to look it up:
And the
2004 Race Results
if you want to compare and contrast how I did then to how I did yesterday. (I guess these links are mostly for me though, so I don't have to go back and look them up again later. :)
Since I got 3rd in my age group, I wonder if I won something? I didn't stick around for the awards ceremony...