Big accomplishment today! Kevin and I drove to Davis for their annual sprint triathlon, where we met Scott (my brother) and his girlfriend Sara. Scott, big pansy, didn't race with us because he said he wasn't in good enough shape. Yeah right- he would have probably finished 20 minutes before any of the rest of us. But he did take all the pictures below, so you can see us in action. First, the pre-race picture of me and Kevin, while we are waiting for our heat to begin in the frigid cold.
The triathlon consisted of a 750 yard swim in a pool, a flat 18 mile bike ride, and a 4 mile run. First let me say that it was super crazy windy today, and a mere 45 degrees (with the wind chill factor) when we started our race. Kevin and I were in the 5th heat, so we didn't even start until 10:30 a.m., not that it was any warmer than the first wave that started at 9:00 (at least it didn't start at 7 like it did last year! Good thing I checked last night for the start time!). Here's me just about to get into the water: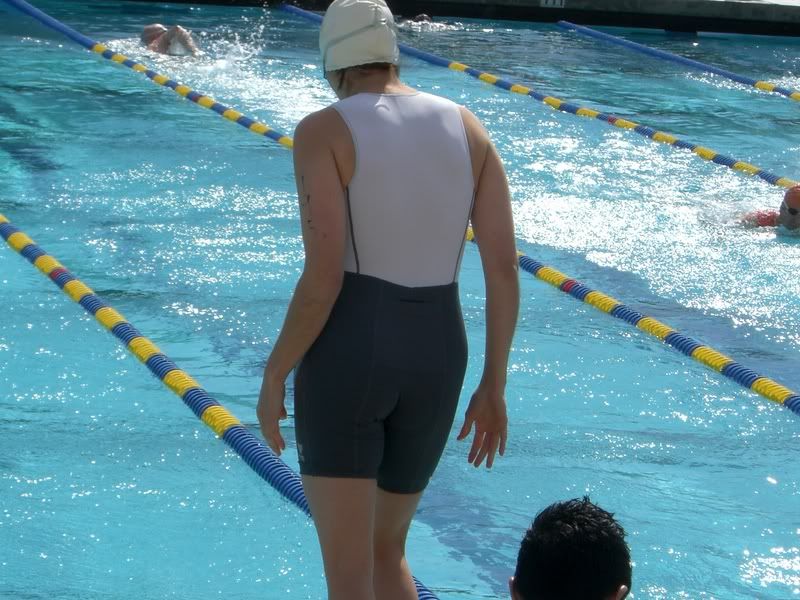 Not a very flattering picture... You can see my numbers on my arm- I was #195. We had 17 minutes to finish the swim, and then you have to get out, no matter how many laps you've done (15 total). As I thought, it took me almost exactly 12 minutes- I heard them announce there were 5 minutes left over the loud speaker when I had about 4 strokes left. Kevin and I were lucky enough to get to share a lane- I'm on the right, and he's on the left.
And here's me getting out, and off to start the bike: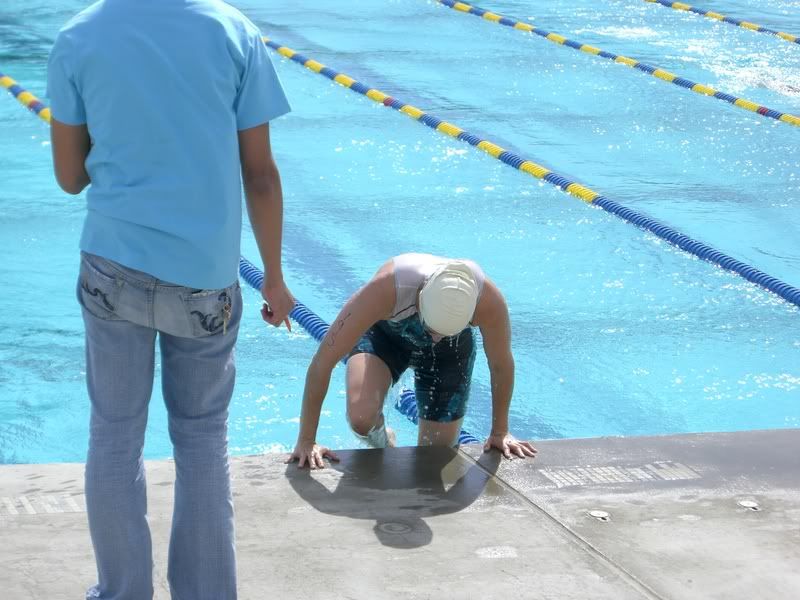 Also, not a very flattering picture. Thanks Scott! (Could you tell that was sarcastic?) He only took swimming pictures (apparently the memory card came out and he didn't know it, so the camera said it was full and he didn't take anymore until we finished). The swim was easy for me- have always been a swimmer, but I could feel the wind whipping my arms with every stroke. Not good, I was thinking even before I got out of that nice warm water. I took my time in the transition, dried off a bit and put on my windbreaker and a camel back- I always need lots of water when I bike. That 18 mile bike was brutal- the hardest ride I've ever done. I don't know how fast the wind was blowing, but I almost wiped out on the first turn- and quite a few people did! Kevin almost fell, and the guy right in front of him totally ate it. Not a good start. The route was approximately a rectangular shape. The first 8 or 9 miles were cake, aside from the turns. The wind was at my back and pushed me right along. I knew the ride back wasn't going to be fun though, because I was peddaling as fast as my bike would let me, and it was easy. Plus there was no breeze, no wind at all. And it was flat. My front tire was on backwards (not that it matters when biking) so my speedometer wasn't working, but I must have been going upwards of 30 mph. As soon as I turned, I was almost bowled over again from the galing wind- it knocked me from 27th gear to the 12th or 13th gear. Then came the ride back. Let me give you a little idea of how hard the wind was blowing. I was forced into first gear peddaling almost as hard as I could, with my head down, and one arm behind my back to create less drag. I'm sure I wasn't going more than 5 miles an hour. Even though that windbreaker was really nice on the first leg of the race when I was going fast (I was still cold and wet from the swim!), I was regretting it on the way back. It was acting as a bit of a sail and I had to push my sleeves up to stop them from whipping back and forth, and also to trim down on the drag they were creating. 7 or so miles of this back, and my legs were burning, my back was super achy, and I was super "saddle sore!" In fact, when I finally made it back to the transition area (after what seemed like FOREVER!), I could barely walk upright. The sun was out, at least, so it was warming up, but for the first half mile of the run my butt hurt so bad I almost walked. Eventually that wore off, and it turned out to be a very pleasant run, through the campus, and on a few trails next to a creek. I even managed to pick a eucalyptus leaf at the second mile marker where we turned around, and carried it all the way back, smelling it occasionally. While I was constantly passed on the bike, I passed about 4 people on the run- all the running I've been doing, both on my treadmill and some trail running with Chris and Turi had really paid off! I even had enough energy to sprint the last 200 or so yards to the finish, where all the club triathletes were sitting on the grass cheering in all the last stragglers (I was in the last heat, you know), and waiting for their awards. I finished in about 2 hours and 19 minutes. Kevin finished 2:09, and Sara totally kicked my butt with 2:02. I don't mind finishing last of our group, I was just happy I didn't stop on the bike, and that my swim and run went so well. I'm not as tired or sore as I thought I would be, but I guess I'll just have to wait until tomorrow to find out for sure... One last picture for you, of the three of us post-race, and happy it's over. :)